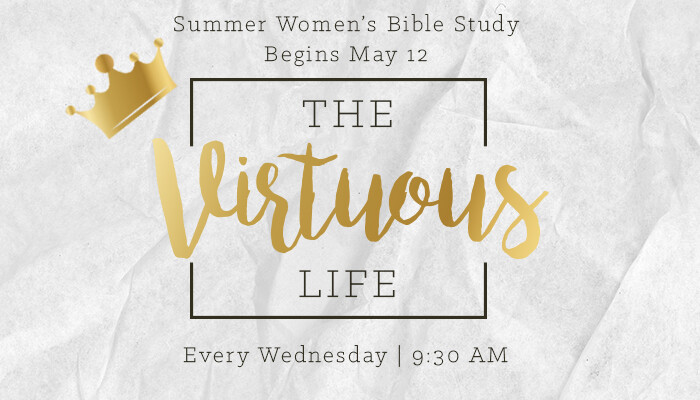 Every Wednesday, from 05/12/2021 to 07/28/2021
,
9:30 AM - 11:30 AM
Summer Women's Bible Study
Wednesday Mornings – 9:30-11:00 AM
May 12 – July 28
The Virtuous Life
Registration: https://lgpc.churchcenter.com/registrations/events/845848
This summer we will be exploring the virtuous life…which means how we can become more like Jesus. Join us each week as we explore the Scripture passages and themes from The Reservoir that illustrate the virtuous life. On the second and fourth Wednesday we will enjoy rich teaching and small group discussion, and on the first and third Wednesday we will enjoy a time of devotion, small group sharing and prayer. Come and connect with God and with old and new Lake Grove friends every Wednesday morning! See the complete schedule below.


*May 12 Holiness in the Sermon on the Mount
May 19 Devotion/Sharing/Prayer
*May 26 How Can Someone Become Virtuous? Pt. 1
June 2 Devotion/Sharing/Prayer
*June 9 How Can Someone Become Virtuous? Pt. 3
June 16 Devotion/Sharing/Prayer
*June 23 Restoring Our Vision of Holiness
June 30 Devotion/Sharing/Prayer
July 7 No Study
*July 14 Meet the Holy Spirit
July 21 Devotion/Sharing/Prayer
*July 28 Gifts of the Holy Spirit