Our devotional today came from John 15:15-17 "I chose you and appointed you to go and bear fruit – fruit that will last." This is the wise guidance that World Vision uses for the Jiboner Jannya program: to create a sustainable result.
In this third year of a four-year test program, the lives of many, many families have been touched in lasting ways. In the southwest region of Bangladesh, there have already been 51,000 direct beneficiaries of the program. This includes 18,000 children removed from child labor and their mothers, fathers, sisters, brothers, nieces, nephews, aunts and uncles who receive the benefit of training and increased income through a parent's new or improved business opportunities, resulting in more nutritious food, a better home, opportunity for schooling and the ability to save for the future.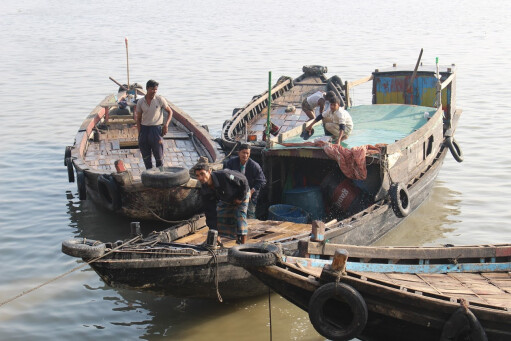 Today's itinerary was full. We started with a tour of the fish market, where boats newly in from the 14- hour trip to the Bay of Bengal unload their buckets of still thrashing fish into trays and the auction for their best price begins. Men of all ages and some boys, transfer fish from the holds, haul ice, and wash boats and sales areas. After our tour, we met with the Market Committee, an elected group who govern the market. These men had previously been reluctant to speak with World Vision about child labor, but now are willing partners to encourage young boys to stay in school rather than work at the market. In the past year, World Vision's program has removed 46 of 80 children from labor at the market.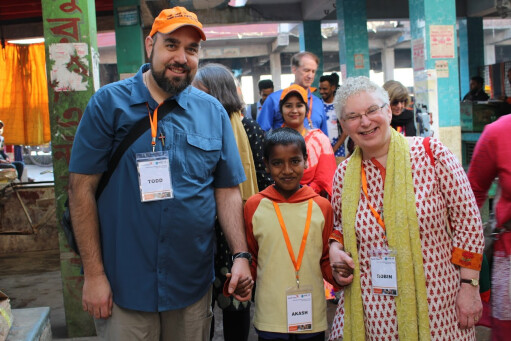 Akash, a boy of 12, is one of these. His single mother became blind following a head injury a couple years ago. Akash's two sisters supported the family from meager earnings at the shrimp depot. The family was still so poor that they could only eat rice. World Vision supported the family with a few items to start a grocery, which has raised their income, improved their nutrition, and allowed Akash to go to school. He proudly showed us his good grades. His mother said "Above, there is God. On the ground, there is World Vision".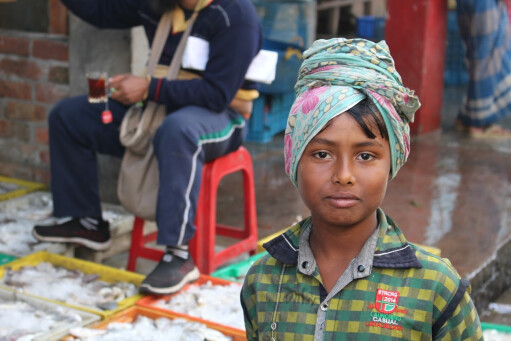 Lipe's story begins when her father left her mother while still pregnant. The mother had to beg to raise Lipe until, destitute, she tracked down the father and left 3-year old Lipe with him. In her father's new family, Lipe was beaten, refused meat that the rest of the family ate, and otherwise mistreated. Lipe was sent to the madrassa for school, but it was still too expensive, so the mother, and Lipe, went to work at the shrimp factory. She worked from 10 pm until 8 am, 6 days a week. As part of the Jiboner Jannya program, Lipe's mother received training and material to sell. Lipe (now 14), with a smile belying her history, and her mother proudly showed us how they have earned sufficient money within a year to move from a bamboo hut to a larger, cement house with two rooms, purchased a bed and cabinet, and have a small savings account!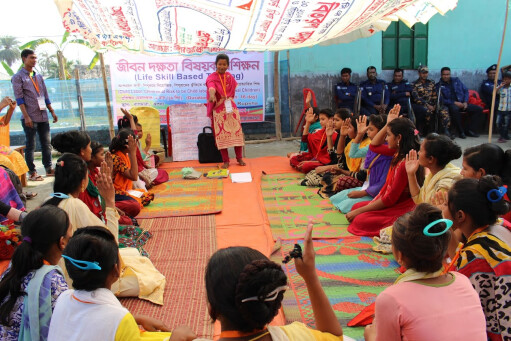 In the afternoon, we met a joyful group of 20 girls, ages 12 to 15, in grades 4 through 8. We observed their Life Skills training class relating to "Common Understanding" and watched them role-play a scenario where kindness, patience, and good communication helped dispel a negative situation. Children in the Jiboner Jannya program complete 16 Life Skills lessons in two months. Following the class, the girls asked us questions about the United States. "Do you also have poor people in your country?", "You are here to help our children. Do you also help your poor children?", "Is there also child labor in the U.S.?", "Do the homeless work?", "Why are they homeless? Even here we can all rent a slum to live in.", "In our country, we consider a good life is when we can live well and eat well. What do you consider a good life?" Intelligent questions from this young group. And then we danced.