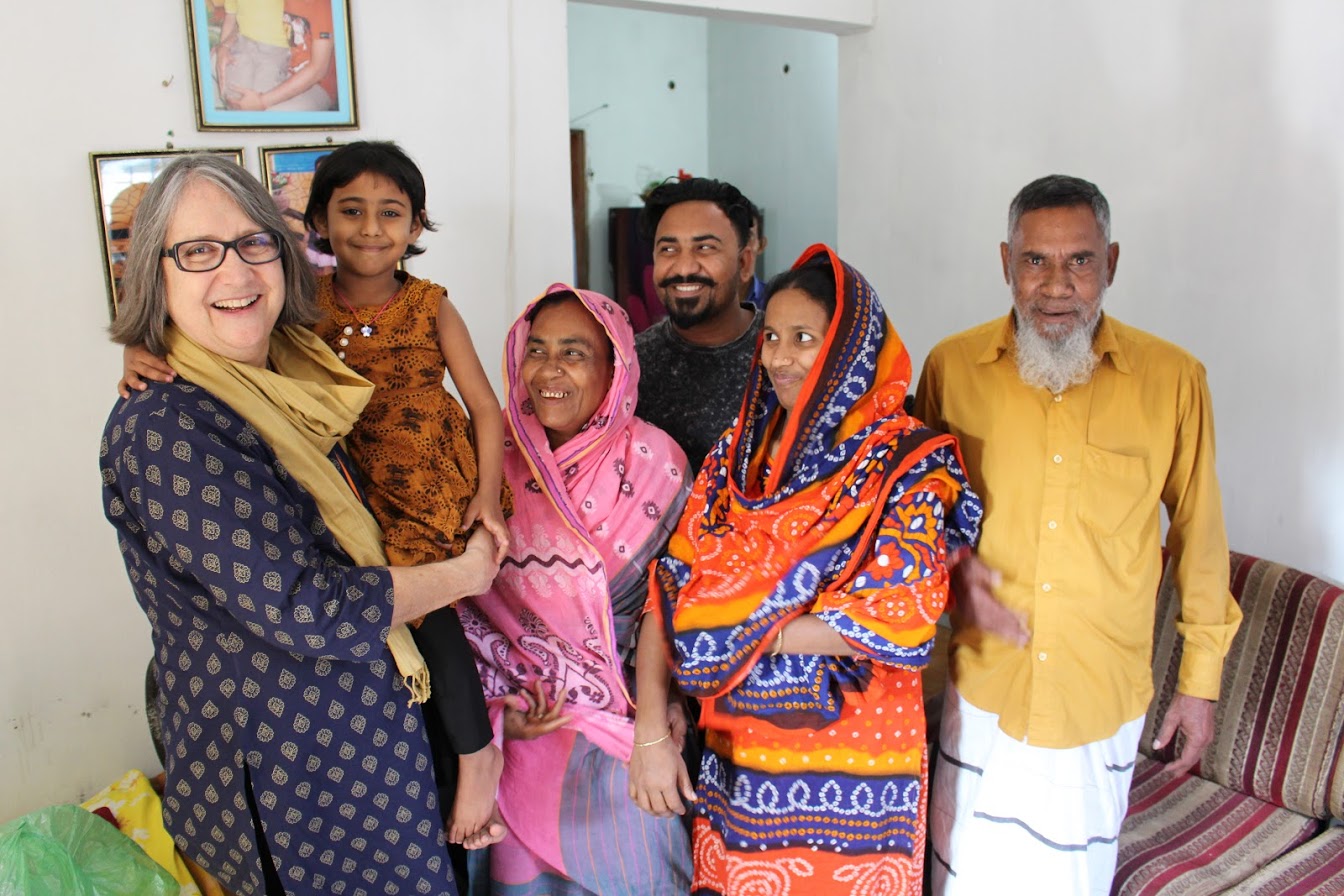 The day began with Sunday worship with World Vision staff at their national office. Pastor Robin assured staff that we will remember them after we leave, that remembering means praying and giving thanks for their work. Their work is difficult, but one of Lake Grove Presbyterian Church's core values is that we will walk beside our partners in ministry to bond, learn, share and pray.
We then met with sponsor children. World Vision's model for child sponsorship operates in a way that the whole community of the child is raised up. For every officially sponsored child, four additional children receive assistance. Funds also go to support vital development work in the community-with the intention that the 10-15 year period of child sponsorships will provide lasting improvements for the sponsored child, their family, and community.
There are currently 178,000 sponsored children in Bangladesh. Today we met just a few.
Tahmina is a fifteen year old girl with a sweet smile who has been sponsored by Lisa for several years. She and her mother took a long bus trip to meet Lisa at the WV office this morning. Thanks to gifts from Lisa on top of her sponsorship, the family purchased a calf and two goats. Today, Lisa was given a photo of the grown, pregnant cow, and many hugs from Tahmina and her mother for the support to her family over the years.
Sabrina is a perky 5-yr old, newly sponsored by the LGPC pre-school. She was thrilled to receive sharp new pencils, crayons, a lunch box, umbrella and backpack, among other gifts and food supplies for her and her family. The photo of the smiling preschoolers included with the gifts brought the connection closer.
We met Tammana's family after walking down a narrow dusty road, and then up a rustic staircase of concrete covered brick. On the third floor of a building with an unfinished fourth floor, we were greeted by the sweet scent of jasmine growing somewhere nearby. We left our shoes at the foot of an ornately carved door and stepped onto the clean tiled floor of Tammana's family's living/bedroom. The room quickly filled with mom, dad, grandparents and uncles, all eager to meet Tammana's sponsor. Bright and eager, Tammana showed us around the apartment, the birds on the porch, and her doctor costume. We learned later that her family moved just recently to the apartment from a mud walled, sheet metal roofed one-room home into this apartment that they rent with two other families. the World Vision sponsorship had allowed her family to make that healthy change.
Sakina's 22-year-old mother and father welcomed us into their one-room home where we met her three younger siblings, grandparents, and several curious neighbors. The family sat on a large bed which took up most of the room, their clothing and cooking pots stacked neatly in a cupboard at its foot. The family expressed gratitude to Linda, their sponsor, for assisting with Sakina's education. She showed us several report cards with 100% marks. Her brother is first in his class. And yet, tuition for the two children costs 1800 taka per month (appx. $21) on top of 800 taka/month tutoring costs. It is hard to make ends meet with their current work. World Vision is committed to assist them in "learning to fish", rather than only providing fish. This is how the program becomes sustainable.
When Melinda, after visiting her sponsored child, asked her sponsored family what they would like her to pray for, they responded that their prayers have been answered!