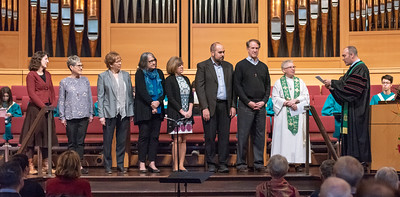 Bangladesh Team Commissioning
Posted by Amy Patton on
January 27 was an exciting day for the Bangladesh team as we were commissioned, by no less than four encouraging services, to represent the Lake Grove Presbyterian Church (and Jesus Christ - a tall order!) with eagerness and determination. We were asked to serve the people we encounter in Bangladesh with great compassion, relying on God's mercy and rejoicing in the power of the Holy Spirit. The congregations responded that they would pray for us while we are away and eagerly listen to our stories upon our return. We could feel your support as you raised your hands toward us in a virtual "laying on of hands" and we will carry that feeling with us as we depart on our journey February 6. As they say in Bangladesh, "Dhonnobaad", Thank you!
In between services on Sunday, we learned of our itinerary, thoughtfully compiled by World Vision staff in Bangladesh and here (thank you Mary Austin and Alan Shiffer) in concert with Pastor Robin Garvin. The itinerary will offer opportunities to see progress through visits to similar locations and meeting with some of the same people encountered on previous vision trips to Bangladesh – as well as to observe new efforts and learn about the experiences of new participants in World Vision programs. The schedule is full of opportunities to hear details about the various parts of the World Vision child protection program and to hear testimonies of changes made in the lives of Bangladeshi participants. We expect to have a lot to share with you, so we hope you will stay tuned to our blog and/or facebook posts.
At the January 27 Annual Meeting, we learned that Mission is one of the key points in LGPC's Vision for 2019. Pastor Graig Flach went so far as to say that he would like to see every person in our congregation participate in mission in one way or another – by praying for a mission team or effort and/or assisting with missions through participation, preparation, communications, or financial support. There are several local and international mission activities every year at Lake Grove Presbyterian church – you are encouraged to look into all of them and consider how best you can be involved.