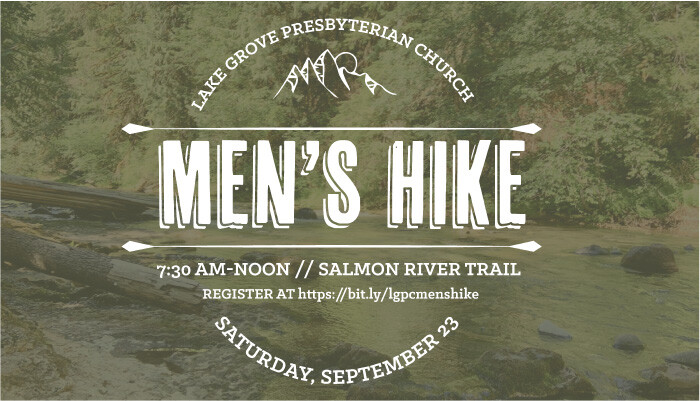 Saturday, September 23, 2023
,
7:30 AM - 12:00 PM
Join fellow Lake Grove men for a refreshing morning hike along the wild and scenic Salmon River on Saturday, September 23 from 7:30 AM -Noon. Enjoy the sound of rushing water and beautiful views of the clear river while walking through an old growth forest. This relatively level, easy hike is perfect for all generations of men—grandfathers, fathers and sons. The hike can be done either one way (1.9 miles and aprox. 90 minutes) or round trip (3.8 miles and aprox 2.5 hours). There are porta potties and a picnic table at each end of the hike.
Register HERE
Participants are encouraged to wear good hiking shoes or trail-runners, carry a water bottle and possibly a walking stick as there is some uneven terrain and tripping hazards. Light trail snacks will be provided. (There is limited to no cell service along the route).
Additional details: Due to limited parking at the trail heads, we will gather at the LeFeber cabin at 8:45 AM and leave in carpools at 9 AM for the trailhead less than 3 miles away. Carpooling from the Portland area is encouraged. The cabin is at 25615 E. Bright Avenue in Welches. Bob's cell phone is: 503-807-4174.